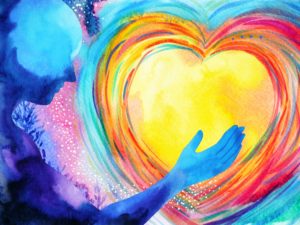 Tensions and emotions are high right now. Many are scrambling to stay afloat above the turbulent waters of change. We are in emergency mode right now. People are rioting in the streets, and we are still being asked to wear face masks and increase our personal hygiene routines to prevent the spread of a deadly virus. During times of crisis we tend to focus on the mundane: when's my next paycheck-is it enough, why is the air conditioner not working?!? The weeds are growing, and the dog needs grooming. How's Grandpa's cough- should we be worried? I can't figure out this stupid online education program for my kid's homework, and the car is making a weird noise . . .
We might also be thinking about our physical health, especially with all the news coverage about the coronavirus. Some doctors are finally opening their offices so we can receive our regular care or non-emergency care, get a prescription renewed, receive a quarterly checkup on a particular condition we are battling, maybe go to the dentist?! Perhaps we are responsible for managing the health of others, or maybe we have seen death lately?
What of the emotional toll of these recent events? You might think it's a strong or prudent response to just slough it off, to focus on it later because paying the rent is more important. But the stress of our thoughts bleeds down into our hearts and emotions. Our thoughts turn into emotion, and emotion leads the body to either strength or disease. Accumulated emotions from traumatic experiences or prolonged stress may embed themselves within the body. These emotions and their physical symptoms or manifestations begin to build up into chronic or debilitating conditions. But you need to focus on real-life stuff! What if all the "real life stuff" were easier to manage, and didn't seem to add additional stress to your life? That's how the body and mind respond when the emotions are in check.
Given the world we are currently living in, I think it's safe to say that we could all benefit from an emotional clearing. Built-up or stuck energies can be coaxed out of hiding in the body, brought to the surface and cleared or flushed from the body. This process will leave you more clear-headed, less reactionary, and will provide a sense of peace and calm within you. 
I'm currently offering my emotional healing sessions at a reduced rate. This service is normally $75/hour, but starting today, through July 31, I'm offering these sessions for $50/hour 
Warning: these sessions can be intense, as we are driving emotions up to the surface; you will probably be quite tired afterward – so try to schedule your appointment on a day when you can return home and rest. But in the next few days following, you will feel refreshed, calmer, and ready to face life's challenges.